Borders closed. Passports collected dust. Visa agreements evaporated. Global mobility fell off a cliff at the height of the pandemic, yet some countries withstood much better than others. What's driving these changes?
With the emergence of Covid-19 came an unprecedented onslaught of travel bans, border closures, temporary visa restrictions and quarantine measures. As a result, the World Openness Score, (WOS), which assesses how open the world is based on visa-free travel agreements, hit an all-time low since it was introduced by Arton Capital in 2015.
At the height of the pandemic, the WOS dropped from a record 21,360 (54%) in 2019 to 12,944 (33%) out of a total possible 39,601. To put it another way: world openness plunged 65% due to the novel coronavirus – a staggering statistic with countless economic, social and humanitarian implications.
"Before the pandemic, the WOS was increasing at a rate of 6% per year and our world was more open and mobile than ever," says Armand Arton, President and Founder of Arton Capital. "This has been a shock for the whole planet – we are feeling the impact on the movement of people and ideas, innovation and trade."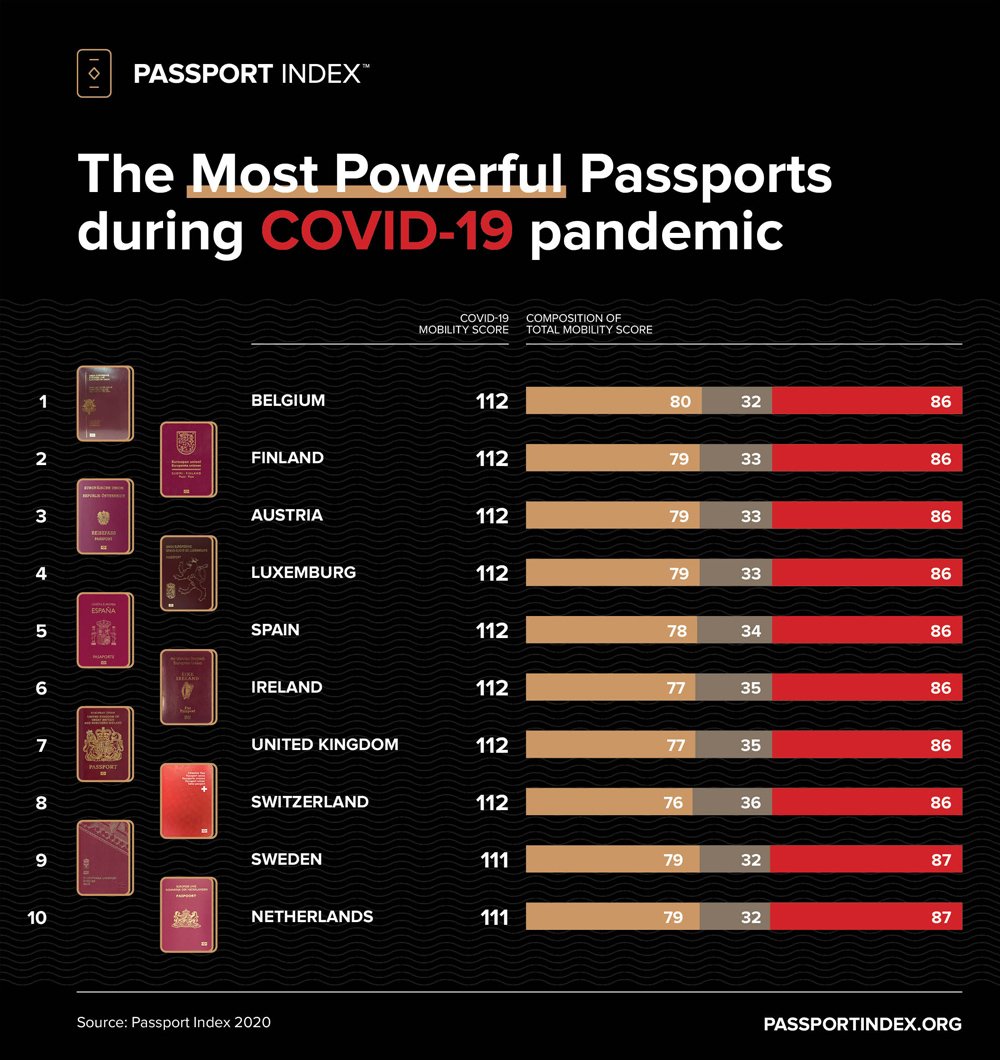 The pandemic also caused major shake-ups when it comes to individual passport power. The Passport Index, which ranks the passports of 199 countries and territories based on visa-free access and an overall mobility score (MS), has been tracking the changes in real-time.
In first place as the most powerful passport throughout Covid-19 was Belgium with an MS of 112 – up from No. 4 last year with a score of 170. In 2019, the UAE topped the ranking with an MS of 179. Yet during the pandemic, the country didn't even make the top 10, dropping to 13th place with a score of 90.
European Union countries — with the exception of the UK, which officially left the EU in 2020 — dominate the top 10 rankings – the likes of Finland, Luxembourg and Spain have retained their coveted positions. Even amid virus restrictions, these passports still enjoyed access to most of the EU's 27 member nations which buoyed their passport power throughout the crisis.
"EU countries still have relatively high mobility scores because they have retained visa-free access to so many countries in the region," says Arton. "But for most other countries, mobility really depends on how efficiently the country has managed the crisis and its reciprocal visa agreements."
When a country bans all or most foreign travellers – as did South Korea, Canada, Hong Kong, Macao, mainland China, Japan, Taiwan, Bhutan and others – it is likely their citizens will also see a reduction in visa-free travel in response. In addition, those countries that have exceptionally high daily rates of infection or deaths – or that have not managed the pandemic well in general – have been hit particularly hard by travel restrictions.
The biggest loser of 2020? South Korea. The country took a nosedive from third place with an MS of 171 last year to just 78 during Covid-19, driven in part to an early outbreak as well as the government's decision in April to suspend visa exemptions for at least 90 nationalities.
Meanwhile, historically strong passports have also tanked following travel bans and visa restrictions. Canada's MS, for instance, plunged from 169 to 78, and Japan's fell from 171 to 77. The US, which boasted a solid score of 171 in 2019, saw its MS shrivel to 80.
"When it comes to the US, we are not surprised that the country saw significantly less mobility in 2020," adds Arton. "With the rest of the world largely disagreeing with how they've handled this medical crisis internally, US citizens represent a high risk for travel."
While the UK has so far held steady in the top 10 most powerful passports with an MS of 112, it will likely sink to the level of the US soon for two reasons: First, it officially left the EU in on 1 January 2021; and second, it's batting a new and highly infectious virus strain.
"Unfortunately, no matter where you are from, I think the next few years will be very hard on personal mobility. Yet, when the world finally overcomes this crisis, we will have an opportunity for a fresh start – a chance to travel more responsibly as global citizens and really appreciate our freedom of movement," shares Arton.
–
Have you read the 2021 Passport Index Report? 
As countries progressively begin to reopen their borders and renew visa bans, the 2020 Passport Index Report reveals what rock-bottom for global mobility looked like during a worldwide pandemic, which countries remained at the top of the ranks and which slipped far below, as well as what to expect moving forward as the planet experiences a global reset. 
Find the full report, here.